Step One: Download AVYST eForms Wizard
REQUIREMENT: Microsoft Windows V7 and above. Allow 5 minutes for download.
If you require assistance installing eForms Wizard click here. Note: Do not install as an administrator.
Once the application is installed on your desktop, double click on the eForms Wizard
icon to launch the application.
QUICKSTART
Step Two: You're now ready to begin completing applications.
Select Setup -> Agency Information

Complete all fields

 an

d SUBMIT.
To add another agency, select the + Add Agency  button.
To add a location to an agency, select the + Add Location  button.
Select your Default Agency and Default Location.

Select Setup -> Producer Information

Select + Add Producer button.
Complete all fiel

ds an

d SUBMIT.
Repeat to add another Producer.
Select your Default Producer.

Select File ->  New Client

Choose Personal  for a personal lines applicant.
Choose Commercial  for a commercial lines applicant.
Complete all fiel

ds,

choose a package if you have one,
and select Create.


*

 Denotes required

You are now ready to start completing your application(s) in your work space.
Go to File -> Open Form

Select one or move forms to work with.
Select OK.

As you begin to type information into fields on one form, the information populates to other areas of the form where appropriate.
Step Three: View training tutorials.
TUTORIALS
Tips
If you need to leave eForms Wizard, simply select File -> Save & Exit. You application and information will be saved and presented to you when you relaunch the application.
At any time you can Save your application forms by going to File -> Save Options.
At any time you can Share your applications with others by going to File -> Share Options.
At any time you can Print your applications by going to File -> Print.
When opening a client to start working with new forms, select from the drop down menu or single click the client name under Recent Clients.
When opening a client and ALL forms you are working with, double click the client name under Recent Clients.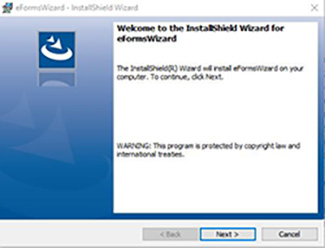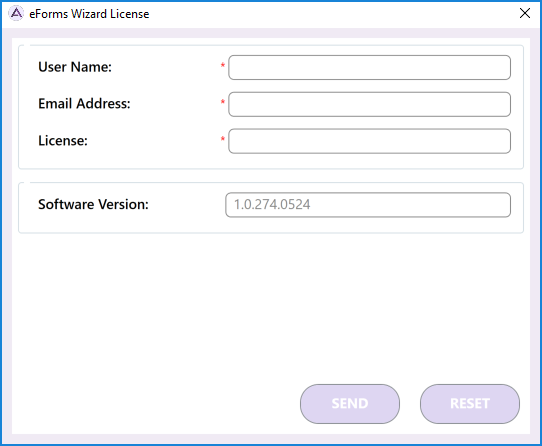 System Requirements
Operating system should be Windows 7 or later (terminal services are fine).
Email should be Outlook 2010 or later.
Tablet users should be a Surface Pro with Window 10.
Installation Help (Application Download)
Once you have downloaded eForms Wizard, you can select "Run" to install the application.
Alternatively, you can save it to your Downloads folder and then navigate to your Downloads folder or where you saved the executable file. Double-click the eFormsWizard.exe file.
The installer will launch (eForms Wizard – InstallShield).
Follow the steps through the install process.
When prompted, you will need to accept the customer license agreement to continue.
You may get prompted to allow the application to make changes to your device. Selecting "Yes" will allow you to continue.
When the installer is done, select "Finish".
Locate the eForms Wizard icon on your desktop and double click to launch the application.
When prompted add your license information which includes the following information that was sent to you in an email.

UserName
Email Address
License Key

Submit the license information by clicking "Send" and complete the launch of eForms Wizard.
Need Help? Call us at 720.893.3005 or 877.204.0704. Email us at support@avyst.com.